Welcome
See the latest News - The BC Lottery Foundation awards Shuswap Society of Skaterboarders funds towards building the new park!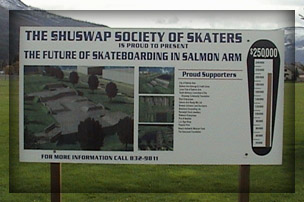 Welcome to the Shuswap Society of Skateboarders website. The SSOS was established in 2003 to represent the needs of skateboarders in the Shuswap area. We need your help too! Soon we will have a new member registration feature on this site, but in the meantime you can contact one of our skateboard shops in Salmon Arm to become part of and add your voice to the society as well.

Have you been to the site of the new park? It's going to be located at Blackburn park, in the north-east corner (across from the Roots and Blues office). When you're driving by there, you can identify the plot by our sign (left) on the corner.


Our next fundraiser is happening soon!
Get two of your friends and join us for the Take The Plunge Relay and Fundraiser on May 7, 2006 at Centenoka Park Mall. Click the flyer picture, below, for all the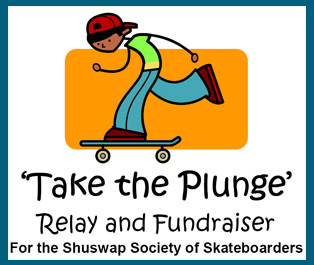 details - don't miss this chance for fun, prizes and fundraising for the new park!
**You will need the free Adobe Reader to view the flyer.
You can
download it here
.
You can find out more about our society on our
About
page,
contact us
, find information about the new park on the
New Park
area, join in and use the features on the
Community
page, leave your comments and greetings on our
Guestbook
, and much more by exploring through the links at left. We'll be fleshing out current content and adding many interesting and entertaining features here over time, so browse as you please now, bookmark the site and then check back often for new content!
Members, this is really
your
site... please feel free to contribute your input about what you'd like to see here. Major ideas/suggestions will be brought to the membership for discussion and voting, but other more general issues can be dealt with by contacting the
webmaster
.
Specifically, we need your favourite skateboarding links, your own website links, info about skateboard events around the province, your skateboarding pictures for the gallery (especially any SSOS biz-related pictures), any suggestions you might have about how the site works, and so on!
Thank you for visiting; please recommend our site to everyone you know who might benefit from it. Please also leave your comments and greetings on our
Guestbook
before you leave - we'd love to know who you are, where you're from and what you think about what you've found here.
Click to make SSOS your homepage (IE)
site design by lozdesignz.com. contents © 2005 Shuswap Society of Skateboarders.
Visitors: